Our offer
CTR Development offers its clients a complex solution for the realization of tailor-made development projects. We provide detailed market research, brokerage, evaluation and preparation of feasibility studies for acquisitions, planning and design of the optimal product, engineering services and management of the whole approval process, selection procedures for general contractor and subcontractors and complete realization of the construction. We can also take over the marketing and sales phases of real estate projects – bulk or retail sales or rentals.
We operate in Germany, the Czech Republic and Slovakia. The corporate structure consists of three core areas.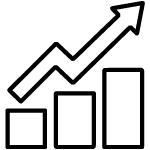 We take care of the optimal marketing of our clients' projects – from market research, correct pricing and phasing strategy to successful sale or lease. We also offer research and brokerage for acquisitions of new land, properties and projects.


Product and planning
Based on our long-term know-how, we can design the optimal project for your needs. From careful evaluation of functional use, through the ideal composition of residential and commercial premises, up to practical and modern layouts. All packed up in an attractive architecture and smart urban planning.

Construction of buildings

We provide complex realization of real estate projects from the selection of a general contractor, through the process of construction either with a general contractor or through construction management, to final management of occupancy permit, acceptance and handling of complaints. Optimization of costs at all stages is a matter of course.
We realize residential and commercial development projects for our clients in Germany, the Czech Republic and Slovakia.